In today's digital era, if you want to grow your business and make it successful, you need an attractive website as your strong business foundation.
Without having a good website, you will not be able to stand in today's competitive world.
In short, you cannot skip out on good website hosting services for this reason. Just imagine how you will be able to achieve a successful, lucrative, online presence if you have a poor website that suffers downtime.
If you are running a business which works online then it is essential for you to have a strong, professional web hosting.
The reason behind it is simple – hosting can break or make your website and business. It plays an important role in the growth of the business as it helps you in getting incredible results.
When you have professional web hosting then it provides you with several benefits including
24*7 technical support
frequent website backup
restoration
SEO
better web security
All these features will lack in low-level web hosting services.
In short, when you invest in good web hosting services then you will get 100% confirmation that your website will be up 24*7 along with the latest up-gradations and updates.
However, choosing the right web hosting service is a challenging task. You have to keep in mind various factors for it.
You have to spend a good amount of time doing research and try to understand what sounds like claptrap while doing a comparison of various web hosting services.
If you are struggling to make your choice which hosting service you should subscribe to between Siteground and Bluehost, then do not get panic.
You are not alone. We have done all the research for you.
Take a deep breath, put your feet up, and dive deep into our detailed comparison of Siteground vs. Bluehost.
In this blog, we do not only share a general comparison of each host's functionality and pricing, but we will share some in-depth information beyond that.
In short, by the end of this blog, you will have all the information that is required for you to make the right choice between Siteground vs Bluehost hosting.
So, read on to take the right decision.
But, before diving deep into the comparison, let us first understand which factors you should consider while choosing a web hosting service.
Server Reliability, Up time Score, and Security
If you have a weak server and unstable network connections then it can often make your website down.
Due to this, you will not get your desired ROI as if you own an e-commerce store then customers will deny buying from your site as it often gets offline.
And, it will lead you to the low ranking on popular search engines such as Google and Yahoo.
So, if you invest in a reputable hosting service that offers a 99.9% uptime score, then it is key to your business success.
Also, make sure your website and data are accessible all time.
So, ensure you invest in a reputable and secure hosting solution.
Customer Service Support
Make sure the service provider you choose, offers you speedy and effective support when you face any technical problems.
You should choose a provider that offers its customers 24/7/365 service support.
You should give priority to a provider who has an in-house customer support department.
Make sure your provider offers you chat support and have strong social media visibility rather than email and support tickets.
Availability of Site Backups
You should invest in a hosting service that provides you with a regular website backup feature.
The reason behind it is quite simple – nowadays, there are various cyber threats such as ransomware that can often result in one-off damages such as destruction or replacement of your site configurations file like index.php.
You might also experience local hard disk failures.
So, it is better to invest in a hosting service that provides you with a site backup facility.
Registration and Maintenance Costs
Usually, the web hosting company provides you with attractive hosting deals during your first sign up and also for your first payment.
But, sometimes they even charge you a hefty amount during renewal.
So, it is better that you check all the registration and maintenance package to avoid the surprise bill effect.
Also, ensure their maintenance cost is also affordable.
Ability to Add Domains
As your business grows, you will definitely need some up-gradation like you will need to host multiple websites and required to add domains and sub-domains as per the popularity of your website.
That is why before signing up with any service provider make sure they offer different packages and pay keen attention to your future requirements of running multiple websites on a single web hosting account.
Account Limitations
Every hosting company has a few terms of engagement. In case, if you violate any term it will results in extra charges, temporary, or permanent discontinuation of your hosting service.
So, it is better that you go through the service provider's terms and sign the contract if their conditions well-matched to you.
E-Commerce and Email Options
When you want to receive more feedbacks and subscriber conversations, it is important that you have your email address linked to your website domain.
In such a case, while looking for the hosting service provider, pick the one that provides email hosting for your company's primary email and even offers E-commerce support to you.
User Interface
Make sure your web hosting service Provider Company provides you with cPanel or Plesk to make updates and modification tasks easier for you.
Do not opt for a service provider who uses some clunky interface that no one can easily figure out.
You are the one that mostly works with this interface.
Therefore, if you cannot figure it out then that is going to be a problem for you.
Now, you are aware of the main factors that you should keep in mind while choosing a web hosting service,
let us go through some best features of SiteGround and Bluehost.
Both SiteGround and Bluehost provide you with various value-added features.
This Bluehost and SiteGround provide you with more functionality and features than your average WordPress host.
It incorporates some value-added features that make your life easier.
Features
Siteground
Bluehost
automatic windows
core update
yes
yes
free SSL certificate
yes
yes
in-built catching system
yes
yes
unlimited hosting
yes
yes
website storage
10 – 30 GB
unlimited
wordpress stagging sites
yes
yes
php support
7.2
7.0
SiteGround Features
To get access to most features, you will get the standard cPanel dashboard.
Now, it is time to check out the main features of Bluehost.
Bluehost Features
As you can see there are many features similarities between both the hosting services. But, the one area where Bluehost excels is its custom hosting dashboard.
Bluehost provides you with a much more beginner-friendly interface to manage important aspects of your website.
Both the hosting services make it easier for you to create a new WordPress site but SiteGround becomes the winner when it comes to migration.
One of the best ways to compare anything is to make a list of the pros and cons of it. It will help you to solve every problem and makes the hosting service choice easier for you.
Now, you know the features of both the hosting services.
Therefore, let us go through some pros and cons of both the web hosting services.
When you know the strengths and weaknesses of both the hosting services, it will be easier for you to decide which one is better for you and your website.
SiteGround Pros
Here is the uptime and downtime report of Siteground
SiteGround Cons
Bluehost Pros
Bluehost Cons
In short, both hosting services are solid choices. So, it is worth thinking about what is important for your website.
What is your budget and how much do you want to get for your money.
As per your answers to these questions, you will find yourself learning much towards one provider than the other.
Now, let us understand the setup process for both the hosting service.
SiteGround Setup Process
The following steps will help you to get an overview of a SiteGround hosting account and help you configure your website and use the tools in the best possible way.
So, if you have not signed up for the SiteGround account, let us do it now.
To get started simply follow the below steps.
With SiteGround hosting account, you will get a tool that will help you.
In the first step, install WordPress, Joomla, Drupal, or Weebly.
You can even have SiteGround install WooCommerce for you if you want to create an eCommerce store with WordPress.
Then, transfer an existing website.
Recently, SiteGround also released its own migrator plugin.
This plugin makes it easy for even non-technical users to migrate unlimited WordPress sites to SiteGround.
If you have chosen higher-tier plans, then SiteGround will also professionally migrate one website for you.
Must Read
Top 9 Best SiteGround Alternatives that You Should Not Overlook in 2021
Bluehost Setup Process
A hosting account is a powerful tool that not only helps you in building and managing your website, but also helps in managing your email, web applications, and much more.
Let us check out the steps of Bluehost set up.
First, to sign up with Bluehost, simply go to their official website – Bluehost.com. Then, click on the "Get Started Now" button.
Then, choose a hosting plan as per your budget and requirement. Usually, it offers three plans – basic, plus, and choice plus.
After choosing a plan, secure a domain name.
If you already have a domain name then just enter that name in the "Use a Domain You Own" form and click "next".
You can choose your domain later also after you purchase and set up your hosting plan
Fill in your account details.
Then, check out your package information and finish the registration.
Bluehost offers a super simple tool to help you in creating a new WordPress website.
To begin, all you need to do is log into your Bluehost account and click "My Sites" then click on "Create Site".
Give website name and a tagline. Then, select a domain name that you want to use for this WordPress site.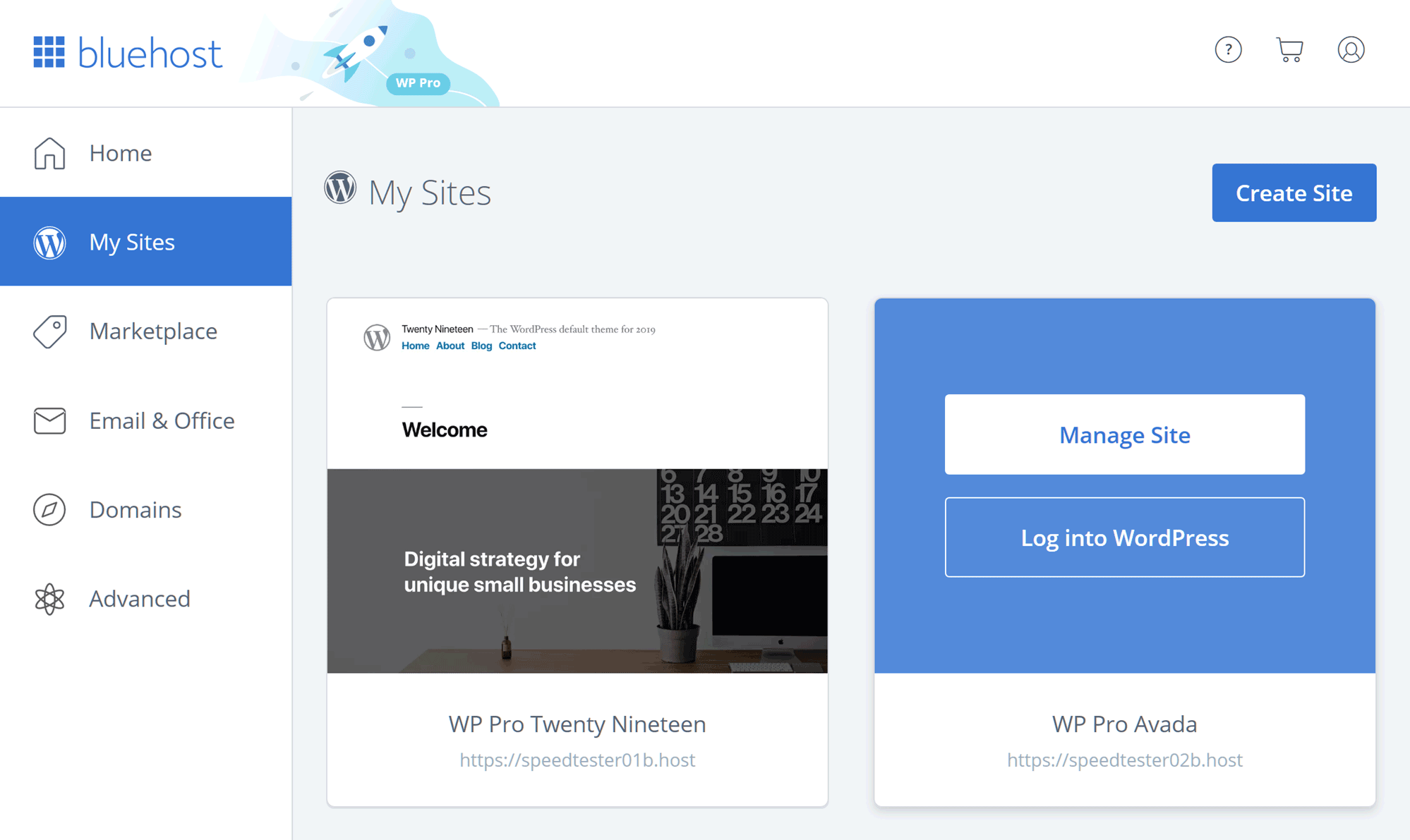 Make sure to disable plugins that you feel you do not need. Also, ensure to take note of your WordPress website URL, Username, and Password.
After that, simply select a theme. You can pick from your installed themes or any of the free WordPress themes.
After that, the next step depends on your choice of what you want to do.
Whether you want to create a contact page or add some content to your website, add more pages, or images?
Here, the downside of Bluehost is that it does not provide a free migration service.
So, though Bluehost makes it very easy for you to create your new website, you will need to manually migrate your website if you are looking to move your existing website to Bluehost.
Bluehost offers a premium migration service that will move up to 5 websites for $149.99.
Now, we will try to compare both the hosting services based on the following 5 features.
So, continue reading this blog to learn the ins and outs of both the hosting service and find out which web host is the best for you and why.
Beginner Friendliness
Basic Things
Siteground
Bluehost
prices
$3.95/month
$2.95/month
money back guarantee
30 days
30 days
domain
no free
free/1st yr
website migration
available
available
website builder tools
wordpress
joomla, website builder
wordpress
joomla, website builder (weebly)
security measures
good
good
If you do not know anything about web hosting services, then most probably you have questions about just how user-friendly are these both the web hosting services for beginners?
So, here is the complete breakdown of how beginner-friendly SiteGround and Bluehost are in terms of refund policy, domain name registration, website migration, and website building tools.
Let us first start with the SiteGround.
SiteGround
Pricing
SiteGround provides you with two different plans StartUp and GrowBig. Startup plans start at $3.95/mo.
GrowBig plan allows you to host an unlimited number of websites starting at $5.95.
Refund Policy
SiteGround's money-back guarantee is 30 days. The amount that you get a refund back is credited to your credit card.
Domain Name Registration
Unlike Bluehost, SiteGround does not offer domain name free for a year.
Website Migration
SiteGround offers GoGeek and GrowBig plans. In this plan, it offers website migration services.
SiteGround does not support free migration on its entry-level start-up plan.
Website Building Tools
SiteGround works seamlessly with various CMSs such as WordPress.
However, it also has its own website building tools.
Bluehost
Pricing
Bluehost's basic plan starts at $2.95 and its next level plus plan starts at $5.95/mo.
Refund Policy
Bluehost's money-back guarantee is also 30 days. If you cancel the domain name within 30 days you will get a full refund. If you cancel it after 30 days, you will get a partial refund.
Domain Name Registration
When you sign up with Bluehost, you get a free domain name for a year.
Website Migration
Bluehost offers paid website migration services that usually start at $149.99.
Website Building Tools
With Bluehost you can decide how to build your website. You can even make use of the in-built website builder that is powered by Weebly.
WordPress
We all know that nowadays WordPress is the most popular software for building websites and blogs.
Any web hosting services that you choose should offer inexpensive, hassle-free, and safe hosting options for WordPress hosting.
Additionally, the host you choose should make it easy to install and get started with WordPress.
SiteGround
Official Recommendation
SiteGround is officially recommended by WordPress.org.
Installation
SiteGround provides you with 1-click WordPress installation on all plans. That means you can launch your website in just a single click.
SiteGround also provides you with a free staging environment that is available for free on the GrowBig plan and higher.
Security
When you opt for SiteGround, you will get excellent WordPress support.
You will get automatic WordPress core updates, free SSL certificate, free daily backups and restores on all plans.
In SiteGround, security experts continuously monitor WordPress and make your site protected from vulnerabilities.
Speed
SiteGround provides you with fast speed as it has in-house crafted plugin SuperCacher.
This plugin is available with GrowBig and GoGeek plans.
Bluehost
Official Recommendation
Bluehost is also recommended by WordPress.org.
Installation
You can install WordPress with just a single click. You can manage all your installations from one place.
Therefore, you can start building your website immediately.
Security
In Bluehost, automatic WordPress core updates are available.
Free SSL certificate and backups are available on the top shared plan along with advanced security features like daily scans for malware and vulnerabilities.
Even when you opt for Bluehost, you can get the advantage of its custom-designed control panel.
Speed
In Bluehost, when you opt for premium WP plans, you will get benefits from its VPS powered platform. In Bluehost PHP 7 is the default for all WordPress customers.
why to choose
siteground
bluehost
official recommendation
wordpress.org
wordpress.org
installation
1 click installation
1 click installation
security
free SSL
daily backup
daily restore
free SSL
daily backup
daily restore
fast speed
super cache plugin with grow big and go geek
premium wp plans
Security
When you run a small business website, eCommerce website, or have a personal blog, security should be a major concern.
That is why you should always choose a hosting service that takes security sincerely and has the correct security measures in place.
SiteGround
Site backups
SiteGround offers free daily backup and restoration on all plans.
SSL Certificates
SSL certificates work like a digital passport. It allows data to be transmitted via a secure network.
SiteGround provides you with 3 levels of SSL certification.
1 – Let's Encrypt! SSL – Free with every account.
2 -Let's Encrypt! Wildcard SSL – Free with every account.
3 – EV SSL – It starts from $499.00/ yr.
Malware Scans
SiteGround offers one of the best early warning malware detection system called HackAlert.
DDoS Protection
SiteGround provides you with various DDoS protections.
Some of the key features include hardware firewall filtering, local software firewall, checks for a number of failed logins from the hosts.
Bluehost
Site backups
When you opt for Bluehost, for daily backup and restoration, you have to use an add-on called Site Backup Pro.
If you do not use this tool, Bluehost cerate daily backups with limitations spelled out in their terms and conditions.
You have to pay some monthly fee to use this tool for backup and restoration.
SSL Certificates
Bluehost only offer a free shared SSL that is available to accounts that reside on a shared IP.
If you want, you can purchase additional SSLs such as Positive Wildcard SSL and Comodo Wildcard SSL.
Malware Scans
If you opt for a Bluehost's basic plan then you can utilize Bluehost's SiteLock that provides
standard website protection including basic spam monitoring
basic business verification
site verification
blacklist monitoring
and basic malware monitoring.
However, if you opt for a standard plan then you can utilize Site Doctor that quickly diagnose and stop any threats and issues arise from malware.
DDoS Protection
As discussed above, Bluehost's SiteLock addon offers protection from DDoS attacks.
Speed and Uptime
Speed and Uptime, both are the major cornerstone of any web hosting service. If you want to boost your ROI then your website must load fast and always be up.
So, if you are interested in knowing what infrastructure SiteGround and Bluehost's hosting services use and what features they provide, then read on.
SiteGround
Solid State Drivers
SiteGround uses solid-state drivers on all their hosting plans. This SSDs technology operates at a significantly faster speed than HDDs.
Data Centers
SiteGround has 5 data centers and all these located on 3 continents. You should choose the closets data center if you want the best loading times.
Infrastructure and Technology
SiteGround offers 99.99% uptime. SiteGround's platform is built on cutting-edge technology LXC – Linux Container Technology.
Content Delivery Network
SiteGround offers a content delivery network powered by Cloudflare that ensures fast content delivery.
HTTP/2-Enabled Servers
SiteGround's all servers are HTTP/2-enabled. HTTP/2 is the latest protocol that speeds up the loading of websites.
Bluehost
Solid State Drivers
Bluehost's WordPress plans and VPS plans come with solid-state drivers to ensure faster speed.
Data Centers
Bluehost never disclose specific data center locations. But as per the research indications, the company has 23 data centers presently. These data centers are located throughout the US, China, India, and Europe.
Infrastructure and Technology
Bluehost's servers operate at Tier 3 certification. This means that you can expect greater uptime and redundancy capabilities.
Bluehost offers 99.98% uptime along with an average downtime of 1.6 hours per year.
Content Delivery Network
Just like SiteGround, Bluehost offers the content delivery network powered by Cloudflare.
It means your website's traffic is routed via a global network that is optimized for high-speed content delivery.
HTTP/2-Enabled Servers
Bluehost's all servers are HTTP/2 –enabled. It offers HTTP/2 on all WordPress hosting accounts and on VPS hosting plans.
Customer Service and Support
When it comes to web hosting one thing is sure that at some point you will need help from the support team.
Of course, you expect that you will get the help you need anytime – 24*7.
Therefore, it is important that you select a hosting company that has a strong customer-centric vision.
Below is a screenshot of google trends comparison between siteground and Bluehost
SiteGround
Ways to Get in Touch
There are the main 3 ways to get in touch with the SiteGround's support team 24/7/365 and that includes support tickets, chat, and phone.
Response Times
SiteGround's support team's response time is as follows.
If you raise a ticket then you will get a response from them within 10 minutes.
If you want chat support then you will get it instantly.
And, when it comes to phone support, you will get that also instantly.
Areas of Expertise
SiteGround staff is well-known for their expertise. They offer 24/7/365 on-boarding support and ongoing assistance. That is the main reason they boast a 100% client satisfaction rate.
Bluehost
Ways to Get in Touch
When it comes to getting in touch with Bluehost's support team, you can opt for tickets, chats, and phone. Bluehost provides you with dedicated phone lines for hosting, sales, traffic generation, and more.
Response Times
When you opt for SiteGround's hosting service if you need any support then you can expect response time as follows.
If you raise a ticket then you will not get any specific time.
If you are expecting instant support then you can get it through chat.
There is one another option, too. If you need instantaneous support then you can expect it via phone.
Areas of Expertise
Bluehost staff is well-known for its WordPress expertise.
They provide 24/7/365 support for account management, sales, and technical support.
In a nutshell, when it comes to the web hosting industry, both Bluehost and SiteGround are two leaders and ferocious competitors.
Here in this blog, we have compared both of them against 5 important features such as beginner-friendliness, security, WordPress, speed and uptime, and customer service and support.
By reading it carefully, you will understand which one is best suited to you as per your budget, requirement, and convenience.
So, do not take decisions solely based on price.
Compare their features and based on it take a decision.
Now, in the end, you will definitely want to know who should you choose between SiteGround vs Bluehost hosting?
Well, the answer to this question is quite simple – you should choose a hosting service as per your requirement and budget.
Your choice will be highly dependent on what you value the most.
Right?
Let us recap whatever we have discussed earlier quickly in our next section. So, you can make the right decision.
here is some screenshots taken from Facebook
When to Pick Bluehost
Both hosting services provide you with great functionality and features that you will not get with many other cheap shared hosts.
For example, both the hosting service offers staging sites, in-built caching, and an easy-to-setup wizard that assists you to create your brand new website.
Then, you must be wondering when you should choose Bluehost?
Read on to get its answer.
Bluehost provides you with a more user-friendly dashboard.
So, if you are in search of the most beginner-friendly experience, then Bluehost will be a better fit for you.
In addition to this, Bluehost's plans are a little cheaper and they come with a free domain.
If you are on a tight budget or do not want to spend your hard-earned money on hosting service, then Bluehost is the best option for you.
It will cost you less money.
Overall, if you are looking for the most beginner-friendly experience and the most affordable price, then Bluehost is the winner.
Now, in the last section let us discuss when choosing SiteGround is a good decision and when picking up Bluehost can be advantageous for you.
When to Pick SiteGround
Now, when it comes to SiteGround's hosting service, this hosting service excels when it comes to high-performance and customer support services.
As per our page load tests, SiteGround offers better performance than Bluehost.
It is one of the most important features because page load time has a big effect on your visitors' experiences.
When it comes to offering support to customers, SiteGround has a much higher support rating as per our WordPress hosting survey.
As per a recent study, you will get better support from SiteGround.
In short, if you are looking for the best performance and best support, SiteGround is the clear winner.
Signing Off (And the "Winner" is?)
Final word of the decision to choose a hosting between Siteground and Bluehost
So, the winner of the above discussion regarding hosting plan, security, speed, security, etc is Siteground hosting.
In a nutshell, when you look at different hosting services for the first time, it can be an overwhelming experience for you.
But, in this blog, we have done a head-to-head comparison of the top 2 hosting services in the world these days to help you pick between SiteGround and Bluehost.
Both Bluehost and SiteGround are leading providers who have earned a pretty good name in the industry due to their amazing features and excellent customer support.
Both are different providers with their own amazing features.
Bluehost is popular due to its well-established and reliable reputation. It appeals to beginners.
On the other hand, SiteGround is well-known for its strong security features, fast speed, and outstanding customer support.
According to us, SiteGround's performance, reliability, and excellent support systems make it a perfect pick for you.
Due to their high-uptime record, quality servers, innovative and speedy customer support team, and being beginner-friendly, SiteGround is the winner of this competition.
But, this battle is never one-sided.
Of course, SiteGround scores high in our rankings but if you are on a tight budget and want to host multiple websites, then definitely Bluehost might be a better option for you.
Which provider you will choose that will depend totally on your needs and what you value most?
Are we right?
So, what do you think about these two hosting services?
According to you, which one is better for you?
So, If you like our siteground vs bluehost hosting comparison, share your views with us in a comment section below.
Your suggestions, opinions, and recommendations will be highly appreciated. Also, let us know who came out on top?
We would love to hear it from you.