Backlinks are an essential part of search engine optimization. Still, many bloggers are there who don't know about backlink, and some of them don't know the importance of backlink in SEO. They are taking it casually.
Over the years, so many bloggers building backlinks like crazy.
But Will these crazy backlinks will help you in SEO these days any more.
No, Not anymore…
But backlinks are just as important as keywords for a blog post content. You can't ignore it even today. I mean, you have to create quality and relevant backlinks instead of creating crazy backlinks.
What Is Backlink?
Backlinks are the incoming or outgoing links from one website to another website. The more quality backlink, the more will boost your webpage in the SERP page.
How Many Types Of Backlinks Are There?
By the way, there are a lot of links in the internet but when it comes to backlinks, then there are two types of backlinks. One is do-follow and the other is no-follow.
SEOs and webmasters give more important to do follow backlinks. why this because do-follow backlinks help more to SEOs to rank a blog post significantly.
Do-Follow Backlink
All do-follow links are HTML attributes which are hyperlinks through which we allow search engine bots to follow the links. When your website gets do-follow links from another website, along with that link juice is also passed.
If you want to give do-follow backlinks to any website, then you have to allow keywords as anchor text using the below format.
Do follow backlinks have many advantages such as
increase page authority
increase domain authority
Example of do-follow backlink:

<a href="https://www.digitaltapan.com/">digitaltapan</a>
No-Follow Backlink
This allows the only user to follow the link. This link crawls by search engine bot, but the search engine does not follow the link where it pointed to.
No-follow is an HTML attribute and if you write this attribute in your HTML code then search engine crawler will think that this hyperlink is only available for indexing not for following and this hyperlink does not influence the ranking of the link target.
We called this type of backlinks as no follow without SEO value. This type of link won't pass link juice.
It will not boost your website or web page rank and SEO value. It will only help you to get some referral traffic.
But, thinking to create only do follow links is a bad decision. You can't ignore no follow links.
Example of no-follow backlink:

<a rel="nofollow" href="https://www.digitaltapan/"> digitaltapan</a>
What Is Link Juice And How It Helps To SEO
We used this term in SEO to reference the SEO value of a hyperlink to a particular website.
Usually, link juice transfer do-follow backlinks, but if you want to stop, then you can stop it by passing no-follow backlinks. ( only admin of the website can do this).
Link juice is the basic of internal linking. It is not a tool or strategy to use. It is just a term used in SEO, which describes how powerful your referring link is?
How Does Link Juice Work?
If you think that link juice, link authority, and backlinks are the same thing, but they are not. But these links will do the same thing.
Google first look for these type of link and then analyze for relationship for a particular keyword where you wants to rank your website.
Some Link Juice Strategies…
1. Create Accessible And Useful Content
The simple thing is if you have attractive amazing content, then it is obvious that other Bloggers refer your post to their blog reader by adding a link to your post.
This means that they will give a link to your blog post from their blog, through which whoever will come to read their post, he can come to your post by clicking the referral link.
2. Promote Good Content
Blog promotion is a way in which, traffic of your blog can be doubled.
So what you have to do is, you have to find your blog posts with having more engagement which people want to read more and like.
After that, you have to promote those posts more times in your community or group.
You can run Facebook or Instagram ad for instant results
If you want people to share your blog posts in their groups and social pages, then your blog post should be well researched and versed.
I use this strategy to get my readers to share my posts. You can also sue the same as this at the end of your post as a request.
If you are running a blog in WordPress, then we have a lot of plugins to share our posts like I am using one of them called social snap. it is a wonderful and awesome plugin.
5. Link Juice Passing
Pass link juice from well-performed content from your blog to low performing posts. With the help of this strategy, your low performing blog posts rank will get a boost in the SERP page.
So how can you pass link juice from one post to another post?
Well, the answer is internal linking.
It is an on-page SEO technique and a ranking factor as well.
6. Link Building
Some of the new bloggers think that building backlinks to the home page can rank other posts of the blogs automatically. But this not 100% right.
Along with creating backlinks for your home page, you will also have to create backlinks for your other posts and pages.
This will increase your domain authority as well as page authority.
There is a lot of link building techniques that you should follow to build backlinks.
7. Sitemap
Before submitting a sitemap, if you do not know why you should submit, then it is important to know that it tells the search engines that how many webpages you have so that search bot can crawl and index it to make it visible in SERP page.
Link Juice Calculation
To calculate the link juices of any website, an algorithm has been created by Google, which we call page rank. So it is also important to know how this page rank works.
It helps to know how much quality backlink a website has. Page rank shows how strong that website authority is.
However, domain and page authority are not ranking factors. But in this, you get to know the brand value, trust score, age of the website, all of a website.
So how is your domain and page authority score determined?
do you know this? let me tell you
According to the quality backlinks you create, your score will also increase, only then one day your blog will become an authority website.
You will be able to see in the image given below that pa and da of backlinko website With this, you will be getting information on many more matrices such as on-page elements, general attributes, and link metrics
You can also check the status of any website by creating an account in Moz and installing the moz-bar Chrome extension.
Before I start talking about the advantages of backlink. Let me tell you something important. Every year the strategy and the process of doing backlinks are evolving.
A couple of years back, pages having low-quality backlinks were also ranking on the SERP page.
But because of google uprise, it's penguin algorithm, all the prospect of backing has changed.
That is why you will always have to find a new way to build backlinks and keep creating new strategies to implement to get better results.
What benefits can be gained from backlink creations
Faster Ranking
Gain Website Trust
Faster Ranking:
We believe that the sooner a post crawl and index by search engine, the sooner it will start to rank in serp page.
Do you also think so?
If you want your posts to be indexed soon after publishing the post and be visible in the search engine, then you have to prepare your post in such a way that it passes all the ranking factors set by google.
You might have heard that some URLs get indexed even without index. So, it is like when you have good content and you make it SEO friendly, and if it passes all the SEO parameters then Google automatically gets to know and index it.
You can check the backlinks of the ranking keyword of any website using aherf tool.
Below is the screenshot to check the backlinks from Moz
Remember like Google bot, Semrush, Ahref, and Moz bots are also available and they are different from each other, so these tools will not show you the same and exact result for a website.
Results will be different in every above-mentioned tool, so you can not compare one tool with another in this case of backlink.
Increase Traffic:
The Best way to increase your traffic is getting backlinks from the website having millions of traffic. This is called referral traffic. The best part is more referrals give the more SEO value which is the main advantage of doing backlink.
Mostly Referral Traffic Has Two Advantages
targeted traffic
Low bounce rate.
Deliberately, those who click the link to visit your post, generally they are targeted and less likely to leave out the referred page. More time they spent in our post helps us to lower the bounce rate.
Gain Website Trust:
If you are in the blogging or online business you might have heard that high domain authority websites rank higher than other websites.
You all know that the first impression is the last impression. You can use this formula for your business and your promotion.
We are in a world where trust means everything. Whenever someone goes to do something business with someone, they think that how much should I trust with whom I am going to do business.
When someone visits your website, it is very important to impress them, instead of which you can gain their trust.
If more people are suggesting something, then there is definitely something in it.
Similarly, if other websites refer to your website, it is obvious that the trust score of your trust will increase. this is the way to increase your credibility which is more important in blogging.
How to Start Building Backlink:
Building backlinks does not mean that the number of backlinks rather having a less number of quality of backlinks.
So here are the best ways to get quality backlinks.
Write good quality content (content is king in online marketing)
Guest posting in reputed sites
Directory submission
Increase website trust value
Pillar content( to provide the detailed information about the given topic so that that reader or any blogger can find the answer for their question on the given topic)
Broken link building
Write Good Quality Content
Anyone can start writing the article and publish it in their blog. If you have not started your blog yet, then go now and start your blogging career.
But maybe you will not get linked to your blog if the content is not readable and enjoyable. You have to write terrible content with valuable information.
If you want other bloggers to link to your blog then you have to provide awesome quality content.
If after flicking through some amazing blogpost you are not serious about the content then your content will never stick anywhere.
You will never get featured because of the poor quality content.
Your brand value and traffic all depend on your content. Your content has to be better.
Usually, people read blogs to find out the solutions and as a blogger, your responsibility is to answer your audiences needs.
Your content should be easy to read and understand by your audience. Think about why you should start out writing a unique angle of content.
You can use tools like Semrush Ahref and Buzzsumo content explorer to find competitors' articles and can compare to your content.
Here is a screenshot of ahref content explorer…
It will show you…
number of words,
domain authority,
referral domain,
organic traffic,
traffic value
number of social shares happening for the particular post.
You can find the same using buzzsumo content analyzer. Here is a screenshot
After analyzing the posts of other bloggers, you have to write your post in such a way that by reading it should feel like your post has given a unique view.
Unless they find something new in your post that is not in the other's post, they will not follow your blog.
Why Guest Posting
Writing and publishing your content on someone else's website or blog is called the guest post.
It is one of the topmost ways of link building and promotes your brand and business.
Sending traffic to the website is its important aspect. Everyone knows this but do you know how to get traffic using this technique.
Well here are some tricks.
Fund your related blogs
Link to your website
Add Attractive Image and Video
Share to social sites
Guest Posting in Reputed Sites
Now, how to fund guest post sites.
But nowadays these search terms are not in use, because today we have so many community groups platforms like Facebook groups, quora, etc, where we can join related to niche and it is easy to approach and request members to accept your guest post.
There are some search term ideas that you can use to find Guest post sites from Google.
Your Topic Title:"write for us"
Your Topic Title:"write for me"
Your Topic Title:"contribute to"
Your Keyword intitle:"submit" + inurl:blog
Your keyword "submit a guest post"
Your Keyword inurl:/guest-post/
Your Keyword "guest post"
Your Keyword "guest post by"
Your Keyword "accepting guest posts"
Your Keyword "guest post guidelines"
Your Keyword "guest author"
Your Keyword "guest article"
Your Keyword "guest column"
Your Keyword "become a contributor"
inpostauthor:"guest blog" Your keyword
inpostauthor:"guest post" Your keyword
Those who accept guest posts mostly add a page like ''write for us'', "become an author", "submit a guest post'' etc. That is the reason you have to search the sites using these advanced search ideas.
Here is a screenshot for proper guiding…
Above all are the search queries for guest posting sites. Because finding guest sites required a lot of effort.
With approve guest posts, you can get one or two links to your blog. So many paid guest posting sites also available these days in the internet.
Avoid those sites to not get penalized by the search engines.
Some of the blogs do not accept guest posts if your topic and content are not good enough for their blog. First, you have to find the topic that you want to publish in their blog.
Most of the websites mention their popular blog posts in their sidebar.
Directory Submission:
Here is an another way to get the quality backlink to enhance your SEO value. Directory submission is an off-page SEO technique.
Most of the bloggers avoid this type of submission because most directory submission sites ask for the reciprocal link it means you have to give them a link and in return, you will get a link back to your post.
So many paid services are also available these days in the market you have to stay away from those paid services otherwise you may lose your domain authority and your blog may be penalized by google.
Increase Website Trust Value:
Your domain authority depends on the quality backlink and the website's trust value. You have to follow some steps to gain website trust value
Here are the steps to be followed:
Audit your backlinks regularly
Regularly active and help your social media page and your community group members by sharing some helpful and valuable content and posts. You can join some Q and A sites to answer people.
Link your one post to another(call it internal linking)
Improve your page speed
Pillar Content:
Pillar content meaning is so simple and what most of the bloggers are using in their content.
You have to give the detailed information with the help of deep research and guide on the given topic people are searching for.
In addition to this, you can add Frequently asked questions(FAQ) where you can add questions with the answer that people often search in google.
These are some of the WordPress plugins that you can use to create a FAQ on your blog post.
WordPress users can use Yoast or rank math SEO plugin. Both are the best SEO plugin that I have ever used and still using for my personal and other website
Broken link building:
broken link building is the way of technique to find the no longer live links of the blog post. With the help of this technique, you can reach the webmaster who links to this broken link and can ask to replace the link with the well versed content resource.
As a webmaster, you know this takes so much time to continuously clear your broken link. People are creating, changing, and deleting their web pages continuously.
When a website visitor/user clicks on the link and visits the 404 error page then maybe they will never go back to your website and this broken link has an impact on your SEO rank.
There are so many broken link checker tools available on the internet. some of them are…
But here I will talk about a free backlink checker tool that most recommend.
Open the Ahref backlink checker tool
Here "404 not found" links are the broken links. You have to recreate the dead contents to reach the webmaster to give an angle to the link.
Another way to find the broken link is Using site explorer and filter it to "Http 404. not found".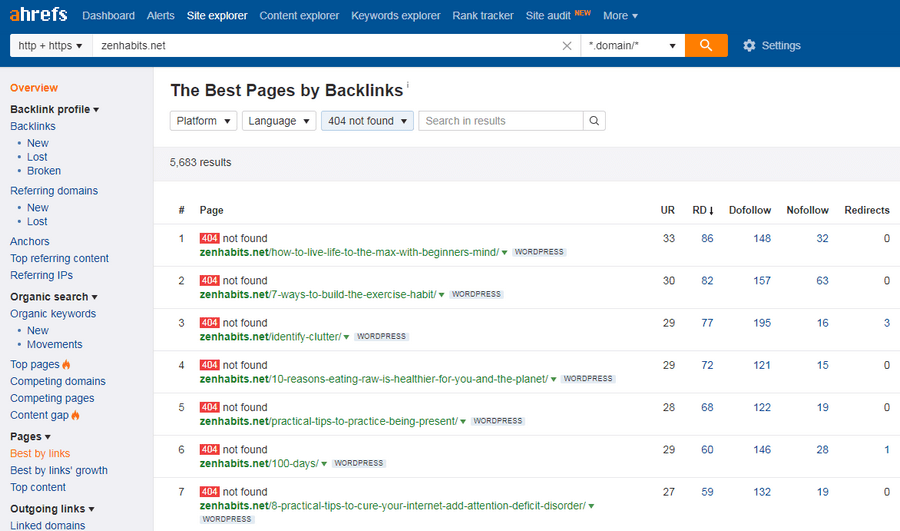 Ahref broken link checker tool is available for free. Go and give a try to check your broken links and generating high-quality backlinks.
Google's Link Building Guidelines(New Link Type)
1) rel= "sponsored"
Well, this attribute belongs to the identify the advertisement and sponsored link.
2) rel= "ugc"
This attribute is created to identify the link from the forum and comment box. And this UGC stands for "user-generated content"
3) rel= "no-follow"
You can use this attribute where you want but, Don't want to implement any form of support and lastly, we used this attribute where we don't want to influence any type of link in search engine.
So, these links give google a hint that which link to follow which is not.
Whenever we are doing backlink or link building we are focusing on do-follow links only and our thought was like more do-follow link helps us to improve our ranking. This is our current scenario.
You can find out your do follow and no follow links by using some tool like Semrush, Ahref.
Google Also Announced
Some people are paying money to get the do-follow backlinks and they want all the guest posts links to change from no follow to do-follow.
They take advantage of tactics like guest posting to manipulate rankings.
Google may punish your website for these types of paid links. So now onward don't allow people to pay money for a link to your site.
Google Want No Follow To All Guest Post Links
Everyone knows that Google is smart and they want all the links(especially guest post links) as no follow so that google can track the guest post user because these days SEOs are breaking the search engine rules.
And Google doesn't want to announce all the things publicly, only you have to find out the best reason. It doesn't mean that google is wordless.
Purpose Of Google In New Link Building
There is no need to worry because whatever the changing google wants from SEOs is because it will be easy for them to find the link and according to the link type they crawl and index and this will affect after 1st march 2020.
No need to do any modification for your link. If it is as no-follow then be it no-follow.
You can change your sponsored link to no follow or you can remain it.
What Does This Mean To SEO?
As I already told you that Google wants to help its algorithm quickly so that it can identify the types of links and frames of reference webmasters and SEOs are using.
It helps to google algorithm to know The guest post links were actually created by random people.
All you know that Google can identify links like wiki, forum, and guest posts, but why they need more value means to make more and more accurate to identify the link.
In addition to this, it helps them whether the link should be crawled or not. Day by day their algorithm is growing like so accurate.
And Google wants to provide us the actual result what people are actually looking for, not which passed all SEO value..got my point.
So I will suggest you to do whatever is possible to make excellent user experience and this is the best way to give a boost to your ranking.
Only one way to achieve this is content because the content is king and this only can engage more and more people and will give you more SEO value.
How To Do Backlink Which Helps SEOs(New)
Do the link building whatever the link type and try to get more relevant so that it may increase your referral traffic.
If you want to know more, here is the latest Google announcement regarding new link types.
Conclusion
So, if you want to give a boost your link with new link building types then just do what I said earlier, do whatever relevant link is possible and don't share your link in the forum if it is not relevant, it may harm your SEO.
You can check your links like do follow, no follow, and two new types UGC and sponsored after it comes into effect in the coming days.
As per my experience and resource, I can say that backlink formation is an essential part of SEO these days, but before that remember one thing content is king.
Share your thoughts with me in the comment box below
Looking forward to hearing your thought. Thank you.
Must Read