With the advent of the Internet, Sharing of information has become much easier than ever before.
The 21st century is also known as the Information Age accounting for loads of data and knowledge shared across numerous platforms powered by technology.
One of the ways to share knowledge, insights, and thoughts has been through the usage of websites across the world wide web (www).
From students to entrepreneurs, websites have become an integral part of people 's lives.
To show your presence in the digital market, websites have emerged as powerful tools for both the rich and the poor.
But amidst so much sharing of information and hundreds of websites going live every single day, getting your presence noticed by the audience has become a mammoth task.
For this, we are sharing thirty tried and tested ways which you can make use of to increase traffic to your blog or website.
The details are given below:
1) Search Engine Optimization (SEO): Make sure it is no less than "Great"
In the recent era,
SEO has emerged as one of the most effective digital marketing strategies for driving huge traffic to your website.
Search Engine Optimization heightens your search ranking, on the search engine results page.
This enables you to persuade favorable clients. SEO amplifies the ranking of the website.
This is pretty significant in order to boost website traffic as the audience should find your website first.
Then one can expect these visitors to connect via clicking on the products or services offered by your website.
The most crucial part is to rank your website on the first page as people hardly click and search beyond that page.
To start with the SEO practices, make sure to buy an SEO-friendly domain, and hosting for your website.
The next thing is to do to create a content strategy that aligns with Google's search algorithm too.
Godaddy is a good platform for domain and Siteground for website hosting
Must Read
Top 7 Tools to Check Domain Ownership History
2) Paid advertising is the trend
Your placement on search engine result pages is a big factor in determining how much web traffic you receive.
Along with that, investing in paid search advertisements can make your company top of the list.
With search engine advertising, you can run pay-per-click as well as re-advertise ads.
If your budget is low, and you track things appropriately, you can opt for cost-per-acquisition (CPA).
If your CPA is sufficient, you can comfortably measure your advertising revenue.
With social media like Facebook and Instagram, you can run display ads(sponsored posts).
Your strategy will involve a combination of different types of advertising.
Make sure that you execute elements like Facebook and Google tracking pixels to understand the efficacy of your ads.
When I type "digital marketing services" into Google, look at the first result – this is paid ads.
These advertisements place these one companies at the forefront of results for people searching for digital marketing services, meaning they are more likely to generate traffic than when results are low on the page.
3) Guest posting can do wonders
In the same vein, writing guest posts can generate traffic to your site.
Guest posting shows that you are active in your community, while also linking to your website – more on creating the backlinks.
Must Read
What are Backlinks and Why you should do them for SEO
To implement a guest posting strategy, you need to find a site that will be a good fit relevant to your company so that you can draft a blog post and then write a pitch.
With the help of this, you are inviting your railway bloggers on your niche blog.
Keep a close eye on who is guest blogging for you – it is best to only accept professional writers who are famous or educated about your specific niche.
When you publish a guest post of an author on your blog, then the author shares it in his website and social media channel to encourage followers to follow your blog.
Which increases the value of your blog. And this strategy a lot of bloggers using these days.
Do you also want to follow this strategy?
This means that more visitors will come to your site to read it!
Just make sure your post has only high-quality, original content without spam links because Google is breaking the path of low-quality guest blogging.
4) Focus on engaging content
Content is king.
As long as you create qualified content on your site or blog, you will keep visitors coming back more and more.
And that's how your content will reach the right people.
You should know your buyer persona.
So that's why you have to do the keywords research properly to optimize your content to reach the right people.
And once you get your audience, the content has to be molded according to them so that it can be further inspired.
With which they will become regular visitors.
In addition, they will share their content for you, which will help promote your site on autopilot. Here is an article to know your audience.
Inbound marketing focuses on attracting the right people for your company.
The best way to do this is to create content through blogging.
If you want to start your own blog go through the link.
When you publish new content, it means that you create a new unique URL.
This increases the chance of visibility in your search engine results page.
5) Use Facebook to publicize your content
Do you also want to reach the global population?
Facebook is a great promotional tool whether you are in the B2B or B2C industry.
As long as your offer is compelling enough, and you can convert that traffic into sales with a great sales page or free offer, then you can measure this marketing initiative infinitely to drive almost unlimited sales.
Facebook ads can generate a great ROI as well as a high click-through rate, but it is important to distinguish between the two types, as well as how to reach potential customers without looking like an intruder in your newsfeed.
You have control over where sponsored stories will be placed and can target only news feeds, desktop-only, or mobile-only.
Sponsored stories are the most organic and natural-looking advertisements and encourage the most user interaction.
By installing Facebook Pixel code on your website, you can target those who have visited your website earlier.
So that they can visit your website again.
This is a great way to return traffic to your business blog or website.
6) Give attention to On-page SEO too
Optimizing your content for search engines is still a useful and meaningful practice.
SEO is one of the most valuable tools that your business should leverage to improve its rank in search results and drive traffic to your website.
Pay full attention to the on-page SEO strategy, not just the blog.
If you also want to drive traffic to your website for free, then you can't ignore this on-page SEO .
Why because it is Seo which is a way to drive traffic for free.
With that said, make sure that you do heavy research on some of the best on-page SEO tips and tricks used in your website.
And to make your on-page SEO better, you can use Yoast SEO or RankMath SEO plugin.
Some on-page SEO elements include
proper primary and secondary keywords in your content
page title
heading
bold and italic
external linking
meta description
image alt-text
URL (plus more).
Your visibility in search engines will generate more traffic for your website.
7) Website analysis is MUST
Let's do a little reverse engineering of our thought process.
It is important to know about your audience before you bring traffic to your website.
To do this, there are platforms that will analyze your website, such as
to see where you are losing visitors.
Google analytics is such a tool that activates the entire top of your website, like how many visitors came, their locations, sources, bounce rate and many more.
You can believe in google analytics.
Keep a close eye on website analytics data so that you can and use this information to improve your promotion and content strategies.
Note which posts and pages are proving to be the most popular.
It is very important to know when and where more visitors are staying.
These analytics statistics can help you fully understand your website visitors and increase website traffic in a better way.
With this information at your clearance, you can create the right content for the right people to drive the right traffic to your website.
8) Being ACTIVE on Social Media is Crucial
It is not enough to produce great content.
You have to be active.
Initially, Social media is the best way to drive traffic to websites.
Set up company profiles on Facebook, Twitter, Instagram, and LinkedIn, and start actively engaging with your audience on these platforms.
Facebook released its automated lead generation messenger chatbot, which you can implement with your business to offer and promote content.
This is a great feature to send traffic to your website. Twitter is ideal for snappy, short, and enticing links.
It is also important to have a diverse social media strategy and use the right social media platforms – not just Facebook, Instagram, and Twitter.
Platforms like Pinterest or YouTube can generate a lot of traffic.
Pinterest has great engagement rates – 66% of Pinterest users shop after seeing a brand's pins.
9) Formulate an Email list
Email marketing is a great way to bring traffic to your site or your blog and promote any offers, but it also means that you need a list to get in the market.
Make sure you have newsletter opt-in for your website.
There are some tools in online that will help you grow your email list.
Create a lead magnet and build a sales funnel if you haven't already done so, to create a list that you can eventually market to any of your offers.
In addition, email marketing software makes it easy for you to track and analyze the efficiency of your email campaigns.
If you see a spike in website traffic, you will be able to know exactly where it came from without any assumption.
I am using convertkit for my email marketing which is one of the top recommended software by the internet industry.
Take advantage of those analytics. Make sure that you are tracking the source of new traffic so that you can measure the effectiveness of every email you send.
10) Promote your content on Twitter
Like Facebook remarketing, Twitter remarketing works in almost the same way.
Just install Pixel and now you can target your site visitors on Twitter.
When it comes to content marketing, a small trick to get traffic from Twitter is to share the click with me to retweet the link with the people featured in the article.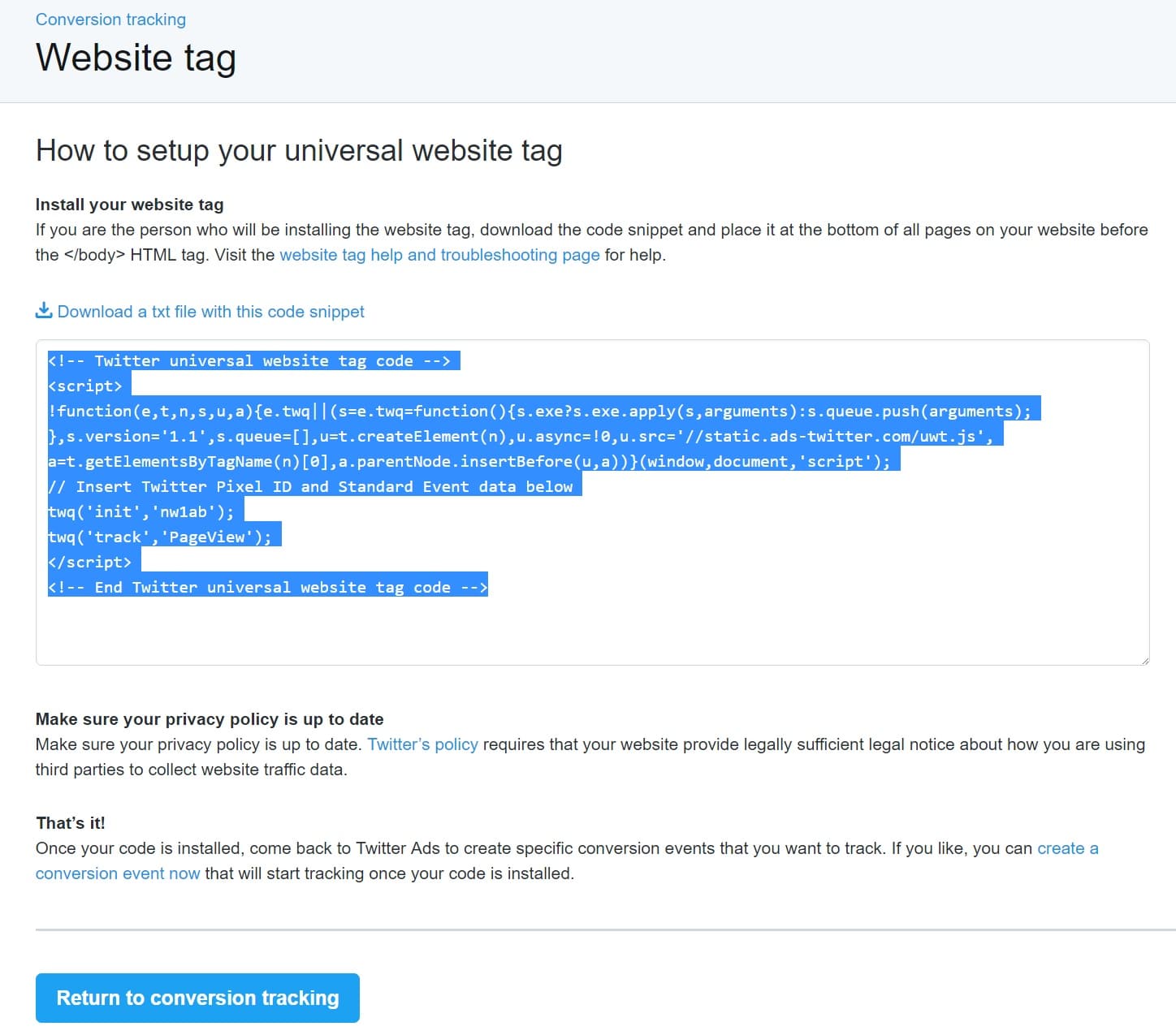 This allows your original tweet to gain more visibility, especially if a hashtag is used in it, as it can help you rank higher on the feed for the hashtag used.
As a result, more eyes end up on the tweet, and you'll get a higher click-through rate on your website.
11) Video Marketing Shouldn't be Underestimated
This is the time to add video marketing to your content strategy.
According to a Cisco report, the video will account for 82% of traffic by 2022.
Start implementing video marketing as early as possible in your strategy because that is the content people are clicking on.
You can make videos for
Instagram or Facebook Stories
Live Video
IGTV
Facebook Watch
News Feed Video
YouTube, and more.
Want to start today?.
You can generate a lot of visitors using YouTube or other video sharing websites.
One way to do this involves the use of your video description box where you are describing your video.
By calling in the details section of your video to have a good description and action, you will get a lot of extra traffic through any of your videos.
Make sure you describe your video properly in the title and description, as videos can appear as search results.
12) Historical Optimization
Historical optimization is the process to update old blog content and generate more traffic and leads.
If you are anything like us, most of the views and leads of your monthly blog come from old posts.
Do not let your old stuff fade away!
Just because it can get a little old doesn't mean you should kick it to stop.
Your old content has to be regularly updated. That is why keep improving it so that you can add more value to it.
After improving the old content, you can share it as new and fresh content.
The good thing about republishing old content is not to lose the link to the URL you already have – rather, you can add more details to the piece and republish using proper keyword research and intent, and can add more value to your existing material.
13) Targeting Long-tail Keywords
If you are already optimizing your write-up for SEO, but are not targeting the right keywords.
So you are making a big mistake.
Long-tailed keywords are for most web searches, meaning that if you're not targeting them as part of your paid search or SEO efforts, you're missing out.
Although those words are catchy, they are actually easy to rank for.
Long-tail keywords have is very less competition and due to which you can rank your post easily if you follow all the ranking guidelinces.
With the help of these keywords, you can drive majority of traffic to your website.
14) CTR Optimization
Once your content is posted and you start ranking on search engines, make sure that people are clicking to read your post.
Click rate (CTR) measures, who click on your post and read it against the number of people who saw the link to your post.
An incredible tool to estimate your organic CTR is none other than Google Search Console.
To get more people to click and drive traffic to your site, it is important to write compelling and appropriate meta descriptions and titles.
To write quality meta tags that are clickable, make sure that your titles are short and flamboyant, and that your description makes visitors want more.
15) Responsive Site Attracts Readers
The days when internet browsing was done exclusively on desktop PCs have been around for a long time.
You know how many mobile users are there nowadays.
Users are increasing every day. That's why everybody wants to access the website using their mobile.
So in such a situation, you cannot force anyone to access your website.
Yes, if they are related to your niche of the blog then you can do that but you can't force someone who is not interested in your topic.
By doing this you are forcing them to go wherever they want.
Even if you have a basic website, you still need to make sure that it is accessible and comfortably viewable across a range of devices, including small smartphones.
Use Google's Page Insights tool to check the friendliness of your mobile layout and see if it complies with the guidelines.
You should also ensure that all your posts and content are AMP-specification ready.
In this way, you can ensure that your website will retain more visitors and greatly reduce your bounce rate.
16) Analyze the Competition
If you have not used software like BuzzSumo to test what your competitors are doing, then you are at a huge disadvantage.
These services collect social displays of specific sites and content, making you think about what topics with readers and, most importantly, social media.
Find out what type of content people are reading and liking most.
And you too can increase your traffic by attracting people by adding content to your website in the same way.
If you are seeing that they have more traffic from Google: then you can focus more on Google Advertising and SEO.
And if there are getting traffic from Facebook, you can run Facebook advertising initially to show your presence and drive traffic.
As you know, you can get targeted and high-quality traffic from the guest posts.
When you know that they are getting traffic from a related niche blog which is related to you as well, So you can also create a strategy for how to take a backlink from that blog and drive traffic from it.
17) Use Appealing Headlines
Headlines happen to be one of the most significant portions of your content.
No matter how good the content of your post is, if your title is not good then who will click your post and why will it read.
So with a comprehensive blog post, you have o write the compelling titles as well.
Nowadays there is a lot of competition in search results.
You may think that you have written the most original, Kixus blog article in the world, but more than likely someone else has written something similar.
This is why initial attraction is super most important – you want to get your readers' attention and get them to click on your article next.
You are expected to master the skill of writing great titles.
Good headlines will increase CTR (click-through rate) which will greatly increase traffic to your website.
An attractive headline can attract visitors, but a blur can easily drive them away.
Write multiple headlines for each blog post before you sit on the last one.
Most importantly, don't forget to put primary keywords in your post's headlines.
18) Utilize Free SEO Tools
Search engine optimization is a great way to generate leads and traffic.
As you can see what we are already talking about, implementing some of these new strategies will automatically help your SEO.
With SEO, there is a lot to learn and understand before actually getting started.
Keyword research can be a difficult, annoying task.
Yes, but the benefit that will be earned from it will be long.
Luckily, there are free SEO tools at your disposal – so why aren't you already using them! Your business should have the most notable benefit in Google Search Console.
We recognize this by the name of the Google Webmaster Tool. With which you can monitor the entire website, such as clicks, impressions, tools, etc…
If you are looking for a more advanced tool, it will cost you a little extra.
Some of our favorites include
19) Organize Contest and Giveaways
If there is something that consumers love more than quizzes and games, then it is competition and cheaper.
People run quickly afterfree kind of stuff and offers.
Right or not?
Utilize your social media platforms to operate contests and giveaways for complimentary or free products.
This is a great way to drive traffic to your page and increase your contact list at the same time.
When users enter your competition and giveaways, you will also have a chance to market for them in the future.
About one-third of those entering the competition is willing to receive information from the brand.
Also, as long as their interests go, you will get specific information about them, so that you can strategize about their shopping preferences.
Personalization is a huge opportunity for brands.
Given that 71% of consumers are disappointed when their experience is impersonal.
20) Promote on Medium.com
Medium is a platform that is an authority website and in which you can get a lot of value by promoting your content.
The medium publishes articles on business, arts and culture to science and other subjects.
Write your best post in the medium website and don't forget to give a link to your personal blog or website.
Must Read
How To Start A Blog In 2021 From Scratch
The benefit of posting in the medium will be that your post will rank quickly and it has more chance of getting referral traffic to your website from the medium.
The platform has also created a community of publishers, who can follow, engage with, and promote the footsteps of others.
You can use this existing community to your advantage and launch your brand.
After you have invested resources to create a great content experience on the medium, you will gain traction and readership.
By including a link back to your site, you can entice readers to your online store.
Medium.com is one of the best places to syndicate your best stuff.
21) Don't Underestimate Influencers
Influencer marketing is not a passing fad.
Concretely, this is one of the budget-friendly choices to send traffic to your website.
Influencer marketing is a way to build rapport with your desired audience on social media by partnering with someone who already speaks to that audience.
You can use the power of influencers on Twitter, Instagram and pretty much any other social network where they have good reach.
If you can earn a shoutout from a popular influencer, it will drive people to your own social pages and website.
Imagine an influential person with 20k followers, giving you an outrage – that a 20k audience will now watch over your business.
According to Google's Think with Google, if you start promoting your YouTube, then you can get four times more traffic from YouTube.
22) Try on Podcasts
Appearing as a guest on a podcast is another great way to get exposure and drive traffic to your website.
With guest blogging and social media followers, you should make sure that the podcast you submit has relevance to you and your brand.
Discover a podcast that your target audience is interested in and listens to and catch up with the host! Take the commercial podcast.
This strategy always works well.
It targets an audience of aspiring entrepreneurs who want to see their own business.
Podcasts often feature successful entrepreneurs and business owners as guest speakers, willing to share their knowledge and experiences.
And soon I am going to start my podcast episode.
23) Aim Re-targeting
Retargeting is as simple as it seems to put your ads in front of people who have visited your website before, which can potentially increase their chances of returning.
So, you know when you are surfing the web and see an advertisement for a website that you were on?
You are probably retiring. Test some retargeting ads for previous visitors to try to increase your website traffic.
Since they are already, they know what you do and what you sell, so if you catch their attention, they may want to come back for more!
With the retargeting ads of Facebook, you can drive a lot of traffic to your website.
This includes the use of conversion pixels for purchases and is a great way to reach people who are already on your site and aggressively hit Google's search engine shortly after they leave your website.
24) Be Active in Comment Sections
You probably visit at least a few sites that are relevant to your business.
so why not join the conversation?
Commenting does not certainly improve instant referral traffic,
but establishing a name for yourself by delivering logical, thought-provoking comments on industry websites and blogs is an incredible way to obtain your name out of there – which can emerge in additional traffic to your website later.
Engaging in interaction with your audience is an influential contributor to increasing website traffic.
When anyone is commenting on your blog post, then reply to it.
Whether it is an answer to a question or feedback, or thanking someone for their positive thoughts on that post.
You may have understood Clear now.
Interacting with your audience is the best way to keep them engaged with your content and your brand Is the way.
Just remember that, as with guest posting, quality and relevance are important.
You have to stay engrossed in the posts of bloggers working on your respective niche.
And it is also important to keep in mind that you are not spamming.
25) Utilize LSI keywords
Latent semantic indexing (LSI) are words and phrases that you use when you are writing any topic inside the content.
These are the keywords that make your post even better and targeted.
LSI keywords are terms that are similar to your primary keywords, are not exactly the same, and people with information on the subject may use LSI keywords in their search term instead of primary.
These keywords are very reliable with your primary keywords, due to which it can reach a wider range of audience and google also like this type of post.
The more search results rank for you, the more website traffic you will receive.
You know about the post heading.
If you put these keywords in your headings well then the value of your blog post will increase further.
Yes this is true.
If you add these LSI keywords in your headings, then your post will get a boost in the search engine results page.
26) Diversify Your Content
It is important that the content you write and publish on your website varies.
If you always write about the same thing, in the same tone, in the same format, the readers will get bored and probably will not return to your blog.
Content traffic can help reduce fires and bring more people to your site.
In fact, companies that receive 55 percent more visitors to their website on blogs.
When you create and publish more different content, you are adding more specific URLs to your website, thus increasing your chances of getting online.
Talking of different content gives a really good performance.
According to research, they rank better, get more links, and make better conversions on even shorter content.
Switch the type of content you have written and the length of your post.
Consider how-to articles, lists, rotating pieces, Q & As, and more to spice things up.
27) Turn to Hosting Events
Hosting an event is an extraordinary way to cultivate traffic and brand orientation. It is not necessarily a physical event to make an impact.
You can host a webinar discussing important topics within your industry and how your company plays a role in this area.
Host webinars on your social media channels like a live stream Facebook video.
After the webinar, you can direct the audience to your website to learn more.
People love to learn, and webinars are the great way to impart your intelligence to your eagerly waiting audience.
Blended with a powerful social promotion campaign, webinars are wonderful ways to boost traffic on your website.
Send an email a day before the webinar or remind before time, as well as "Last Chance to Register".
Be sure to archive the presentation for later viewing, and promote your webinar widely through social media.
28) Start Interviewing Industry Thought Leaders
You will be surprised how many people will be willing to talk to you if you ask them.
Send emails requesting an interview to thought leaders in your industry, and publish the interview on your blog.
Not only it will increase your credibility but also increase traffic to your website and the interviewer will also likely to share the content to expand his/her reach.
For example, RadioGuestList.com welcomes both interviewers to post their expertise or information about their shows.
In addition to being an incredible resource for pitching, promotions, and radio interviews.
The site also has a wealth of articles on how to prepare yourself for a radio interview.
29) Don't forget Marketing on LinkedIn
LinkedIn has its own unique community, like Twitter, Facebook, and Pinterest have their own rules, expectations, and ways of doing things.
Because it caters to professionals, LinkedIn demands a more polished, well thought marketing plan.
However, due to its target audience, LinkedIn can connect you with other "fire-starters", which can help you leverage your existing platform and grow your site. that you could strictly control on your own.
With LinkedIn's own ad network, you can target your ads precisely including
specific job titles
company size
job functions, and more.
You can also get access to group statistics on LinkedIn on which groups you are not a member.
Enabling you to determine which groups potentially can give you the best return on investment.
According to LinkedIn's own research, posts made in the morning receive more responses than other times of the day.
That is why it is best to use a social media management app like Hootsuite or one of many other programs to schedule your updates.
30) Your Site Should be Fast
Have you ever waited until a website is fully loaded.
I have not done it.
Meaning, I never waited, because nowadays every thing has some alternative,
yes or no ?
If your website requires much time to get loaded, your bounce rate is going to be very much high.
Try to ensure that your web pages are as technically optimized to a great extent.
Encompassing image file size and page configuration along with the functionality of third-party plugins.
The faster your site loads, the more SEO value will get
When one visits a website, he/she expects to see the expected content on screen as soon as possible.
If your website is going to make them wait, then there is bad news.
They might not come again to visit your website ever.
We live in a world where we can get everything at a click/touch.
So, you should give attention to this point that your website should be fast.
A fast website doesn't only attract visitors but also keeps them hooked.
So please do not ignore this tip
Over to You
So, these are the 30 ways described in detail which are valuable to increase traffic to your blog website.
Attracting traffic to your website is not a one-day task.
It takes patience
good content
the correct approach
a lot of effort
In addition to this, being updated always helps.
Social media plays a prominent role in the current era.
Therefore, try your best to leverage the power of social media platforms from Facebook to LinkedIn.
Hopefully, in this journey of building the audience for your website and attracting the traffic, you find these suggestions constructive.